PREVIOUS NEWS
Tuesday, September 20, 2016



Belleek Newslettre (# 20.1)



** 160th BELLEEK POTTERY




ANNIVERSARY GATHERING !!



TENTATIVE : Ms. Johannah Purdon, our faithful
event organizer, is considering a Belleeker Gathering
at the Belleek Pottery in Ireland this coming
Spring Time !!

We are looking at the last two weekends in April.
Patricia has to talk to the hotel there. It will be
the one we were at for the 150th Anniversary !!
AGAIN, this is QUITE tentative at this time, BUT
you SHOULD contact Johannah if you believe you'd
possibly like to attend so she can begin to solidify
arrangements for our Gathering !! NO additional
details are known at press time, but you may
contact Johannah as follows :

E-mail : gracie@AlwaysLuv2Shop.com
Télè : 201-314-8072

You may also wish to obtain Gathering Updates
directly from my Upcoming Events Site at :

Belleek Events !!

I'll be posting Updated information promptly as I
Receive it !! I can't stress this more !! It's VERY
important to contact Johannah ASAP if you plan on
attending OR even 'believe' you MAY attend !!

AND, as ALWAYS, PLEASE pass this on, i.e.,
[FORWARD] to ALL your Belleeker friends and
acquaintances !!

** IF IT WORKS !!

Did you ever have someone switch your cereal with
dog food as a joke ??

Then you realize it after about two months and
you start buying dog food instead of cereal for
breakfast because your hair grows in thicker and
it's shinier and your teeth don't have tartar on
them .. ..

Me neither, a couple of times !!

Hey, it makes things easy because I like to buy
in bulk !!

** VICTORIAN ERA ORIGINS !!

The town of Belleek was founded in 1610 by two
brothers, Edward and Thomas Blennerhassett,
from Norfolk, England, who had been granted
farming estates in County Fermanagh along the
River Erne. The town took its name from a large
flagstone, known as Beal Leice in Gaelic, at the foot
of a waterfall. The flagstone had been a prominent
river crossing point for some centuries. The location
next to the river also provided a powerful source of
energy for operating water powered mills. The
Blennerhassett family built a castle in Belleek,
originally called Hassett's Fort.

Sir James Caldwell purchased the Blennerhassett
estate, which encompassed the town of Belleek and
its castle, changing its name to Castle Caldwell.
Over time, however, the castle and the estate fell
into disrepair. It was only with the arrival of John
Caldwell, returning from military service in the
Americas to take over the family estate, that
Castle Caldwell was restored. Caldwell passed the
estate on to his daughter, who married John
Bloomfield and produced a son, John Caldwell
Bloomfield.

Born in 1823, the younger John (Caldwell) Bloomfield
inherited the family estate in 1849, at a time when
the surrounding population was still reeling from the
devastation of the Potato Famine. As owner of
Belleek and its surrounding areas, he sought ways to
provide employment for his tenants and alleviate
their poverty.

Bloomfield commissioned a geological survey of the
region and discovered large clay deposits, as well
as kaolin, flint, feldspar, and shale. He quickly
organized a business around the deposits,
establishing a mill on a small island in the
River Erne from which to grind the clay and
raw materials for making slip, a liquid potter's clay.
By 1853, the quality of the Belleek slip provided the
basis for an award winning dinner service produced
by the Worcester Porcelain Company for the Dublin
International Exhibition.

With all the ingredients needed to fashion crockery,
Bloomfield decided to build a pottery workshop at
Belleek as well. For this, he enlisted the aid of
architect Robert Williams Armstrong, who had built
up a specialty designing potteries in the British
Midlands and who had been working for Worcester
in the early 1850s. Armstrong agreed to design the
pottery and lead development of the works. The
pair then found a financial backer in David McBirney,
a prominent businessman from Dalkey, near Dublin.
In exchange for McBirney's investment, the company
became known as D. McBirney & Co.

Construction began on the pottery in 1857, and
although the factory was not completed until 1860,
the company was able to launch production of its
first earthenware pieces before the end of 1857.

Editor's NOTE : The History of the Belleek Pottery
as discussed on Belleek's Official Web Site lists :
" Raw materials, power, capital and transportation
all in place, plans for the construction of a pottery
building were drawn up. On Thursday 18th November
1858 Mrs Bloomfield laid the foundation stone .. ..

- See complete text at :

http://www.belleekpottery.ie/
Company-Info/Company-Information/
Company-Information#sthash.Jafq0pm7.dpuf

" Thus, whether or not the actual 'corner' or
foundation stone was in place as construction
commenced is question.

Not to be-labour this discussion, I would have to
believe that the waterwheel, for grinding of the
pottery slip, and the (bottle) kilns, for the firing
of product, would have to have been installed and
operational prior to any pottery production !! The
Pottery's work force could well have been operating
in 'temporary' space prior to the completion of what
stands as the Belleek Pottery Building of today !!

Built at a cost of £40,000, the factory was designed
to accommodate as many as 500 workers. The
company's initial production remained limited to
earthenware, relatively cheap to produce. With few
skilled workers in the region, earthenware provided
another advantage in that it could be made with
relatively little training. The company's production
at first fell into a predominantly utilitarian category,
with items such as floor tiles, hospital sanitation
goods, and even insulators for telephones.

Yet Bloomfield, Armstrong, and McBirney had their
sights set on a higher goal, that of creating
decorative porcelain pieces. The company began
experimenting with adapting the Belleek clay in order
to produce Parian porcelain. This type of porcelain
had been developed in Stoke-on-Trent, a major
pottery center in England, in 1844. Using a mixture
of glass and rock, the resulting slip produced a
porcelain said to resemble the marble found on the
Greek island of Paros.

The Belleek pottery's early attempts to develop its
own Parian china proved fruitless. In the early 1860s,
however, Bloomfield went to England, offering higher
wages and better living conditions to skilled pottery
craftsmen if they would move to Belleek. Fourteen
men agreed, among them William Bromley, who
became the company's foreman, and William
Gallimore, who became its chief modeler.

Belleek finally succeeded in producing a small amount
of Parian china in 1863. Production grew strongly
after that, and by 1865 the company had begun to
ship its porcelain to the rest of the United Kingdom,
before turning to a still more international market.
Led by Armstrong, the company established high
quality standards for its porcelain and each piece
became subject to Armstrong's approval. Rejected
pieces were then destroyed, a policy the company
continued over the next 150 years. Indeed, even
in the early 21st century, Belleek continued to throw
away some 20 percent of its production.

Earthenware, therefore, remained the company's
primary revenue source. Over the next decade, the
company continued to plow its profits back into the
development of its Parian china. By 1872, the
company at last reached a level of perfection. In
that year, Belleek displayed its goods at the Dublin
Exposition, featuring both its tableware and its
decorative Parian pieces, including statues and a
double spouted Chinese tea urn. The company
captured gold medals in both of these categories.

The company's success was crowned when Queen
Victoria herself ordered a tea set from the company.
Belleek china now became highly fashionable and
sought after throughout the world. The company
began receiving orders from other members of the
British nobility, as well as elsewhere in Europe, and
from as far away as India and the United States as
well. In 1880, the company's fortunes were further
aided by a new gold medal at the Melbourne
International Exhibition.

The death of McBirney in 1882 caught the company
off guard, however, when his son and heir, Robert
McBirney, announced his intention to sell off the
company which, in the meantime had eaten up much
of McBirney's fortune. Armstrong, who also had
put his entire life savings into the company,
attempted to resist the sale, claiming to have made
a gentleman's agreement with McBirney. Armstrong
launched a legal battle to retain control of the
company, yet died just two years after McBirney.

Bloomfield, McBirney, and Armstrong had one last
success, although none of the founding partners
lived to see it. For many years, the company had
fought to bring the railroad to Belleek in order to
make it easier to haul much-needed coal to fire the
company's kilns and to provide a more secure means
of transporting its finished goods. In 1886, a
connection was finally made to Belleek, when the
line from Enniskillen was extended to Ballyshannon,
passing through Belleek.

After Armstrong's death, the Belleek pottery was
sold off to a group of investors for just £4,500,
accompanied by a 999 year lease fixed at a rent
of £50 per year. The company was renamed as
Belleek Pottery Works Company Ltd. The Pottery's
new directors were more interested in profits than
Belleek's less than profitable Parian china creations,
and the company shifted its focus to its earthenware
production. As a result of this shift in focus, the
company, which by then boasted one of the United
Kingdom's strongest pools of porcelain artisans and
craftsmen, lost a number of its most highly trained
and talented staff.

Nonetheless, Belleek works at last made its first
profit by the end of 1884. The business did not
entirely stop production of Parian china, and
managed to win a new gold medal at the Adelaide
(Australia) Exhibition in 1887, and then again in
Paris in 1900. By then, however, Parian china had
lost its fashionable status, in favor of other
porcelain designs. Worse for the company, the
Erne Drainage Board had begun an effort to control
the water levels on the River Erne including blasting
away the waterfall that had provided a primary
source of power for the company.

The Pottery seemingly experienced alternating
meager and fertile periods for the duration of its
colourful history !! BUT, it is not my intent, in this
article, to discuss Belleek's profit and loss
encompassing its existence !! Nor, is it my goal to
debate their multitude of talented craftpersons and
ever changing management throughout their years
of production !!

My primary goal here, was to provide just a brief
introduction of the history of Belleek up through
the beginning of the Twentieth Century !! If you
have not already done so, there are multiple
references you may obtain outlining the complete
chronicle of our Belleek Pottery, including the land
and its residents !!

** POTTERY PRIDE !!

Getting back to my point of this article, I would
have to believe, that following the completion of
the Belleek Pottery, not only its designer, owners
and workers, but all of Ireland was in awe of its
magnificent construction !!

My motivation for this Newslettre is to present
each of you with a small Collection of items I have
on display in my Museum that honour our Pottery !!
For their upcoming 160th Anniversary, I can imagine
nothing more fitting and proper !!

We are all familiar with the Pottery's use of
transfers or decals, the most famous being their
splendid Trademark Pottery Symbol displaying an
Irish Wolfhound, the Devenish Tower and an Irish
Harp !! Then of course, they utilized literally
dozens of different transfers on their flower and
leaf and other filigree decoration, applied ever so
carefully on their multitudes of fine Earthenware
and Parian China Patterns !!

And, we must remember, another exceptional use of
these transfers as the 'starting' point of an armorial,
crest or monogram placed on a souvenir miniature or
displayed on a custom order Tea Set or Dinner
Service for a family or possible order, i.e., masonic
or religious, etc. !! This utilization would normally
be embellished painstakingly with fine hand applied
colouring as necessary to finish the emblem !!

Finally, we arrive at the 'pictorial' or 'landscape'
transfers !! One of these scenes, in particular which,
I personally consider the most famous, is an actual
rendering of their famous Pottery which, Belleek
applied to many of their offerings !! As we will
envision momentarily, this beautiful transfer appears
in several 'basic' colours as well as fully decorated !!

NOW, where and how to commence my visual
offerings ?? I've devised, what I consider a logical
presentation !!?? My exhibition will proceed simply
in chronological order, i.e., earliest or oldest, as
I'm capable of determining, FIRST !!

Tea Trivets, in my imagination, are a splendid item
of beauty !! They may not only be decorated, but
their utilitarian use extends far beyond that of a
support for hot tea pots or kettles !! I personally
have a 'plain' 1st Period Earthenware example
residing on my kitchen counter which, is employed
as a chili or spaghetti cooking spoon rest !!
WONDERFUL use as it's easily cleaned !! It's also
a 'complete' example as all three of its Earthenware
feet are INTACT !!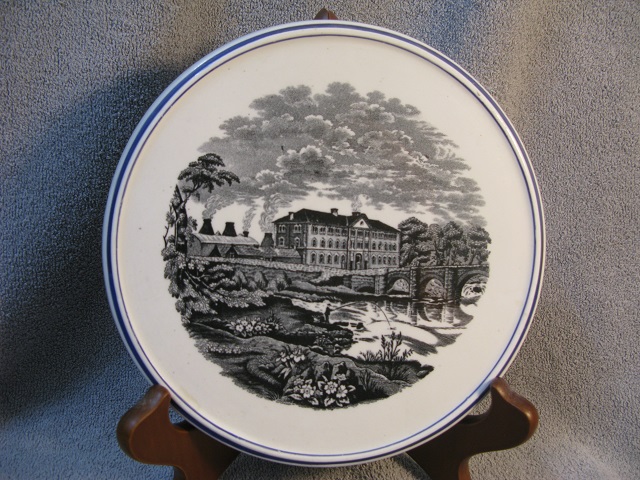 Although this Trivet is missing its original feet .. ..
look for the boy fishing from the rivers edge !!

The above picture is another of my 1st Period
Earthenware Tea Trivets containing the Pottery
Transfer in black and a pair of fine blue circular
rims !! This particular 'variation' displays a young
lad fishing at the base of the falls !!

Below, we see the splendid Blue 1st Period Mark
exhibited on this trivet !!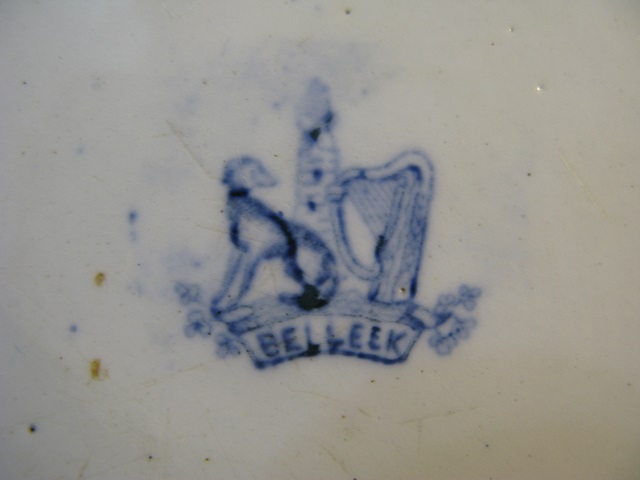 Although this Trivet no longer has its original three porcelain feet,
it does have an Impressed Harp Mark
in addition to its unusual BLUE First Period Mark !!

Advancing, the following picture exhibits a fine
example of an Earthenware (Soup) Plate !! Its
Pottery Scenic Transfer is an unusual Green Colour !!
Above the bridge, Robert Williams Armstrong's
residence is partially visible !! Note also, the fine
Family Crest (Jewsbury Coat of Arms) as well as the
black and orange borders !!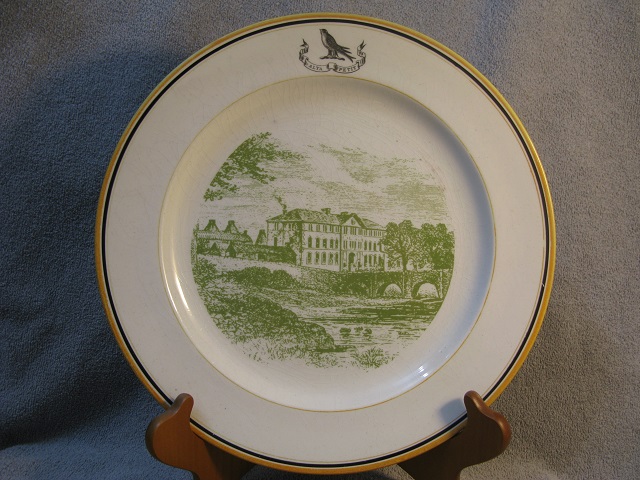 Note : NO fisherman on this one !!

Displayed below, is the 1st Period Mark on this plate !!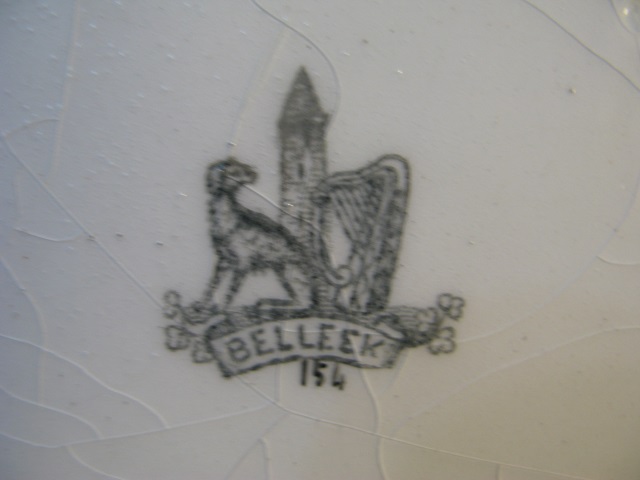 In addition to this splendid First Period Transfer Mark
this Plate also exhibits an Impressed Harp and Crown Mark !!

Pièce De Résistance !! Saving the masterpiece for
last, I present this SPLENDID example of a
Tridacna Tea Trivet as you see following !! Not
many of Belleek's Tea Sets offer a Tea Trivet, but
IF one is available, they are an extremely desirable
item as an accessory to your Tea Set !! I don't
purport a vast knowledge of individual Tea Ware
items, as I have only a couple of representative
sets remaining in my collection, but in addition to
Tridacna, the ONLY other Tea Sets, I can 'think'
of at the moment, which Belleek Produced a
Tea Trivet for were Grass and Thorn !!?? If any
of you Belleeker enthusiasts out there are proud
owners of or know of other Pattern examples in
existence, I would be more than pleased to hear
directly from you !! HOPEFULLY with accompanying
photographs !! THANKS !!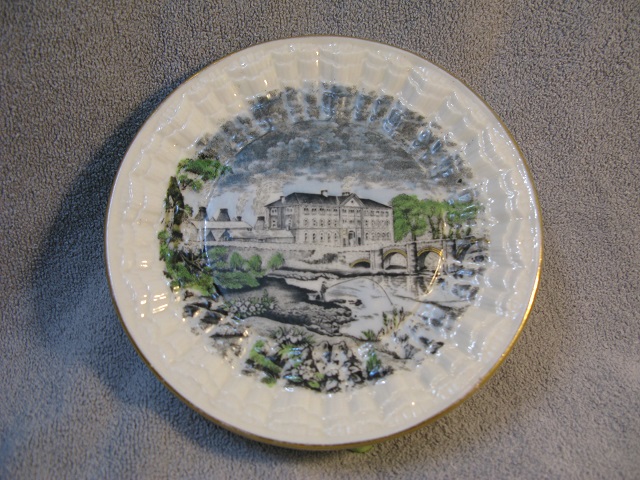 Note the finely detailed painted decoration,
as well as the Gilt Trim on the border and bridge arches !!

This example also includes a fisherman on the
Banks of the River Erne !!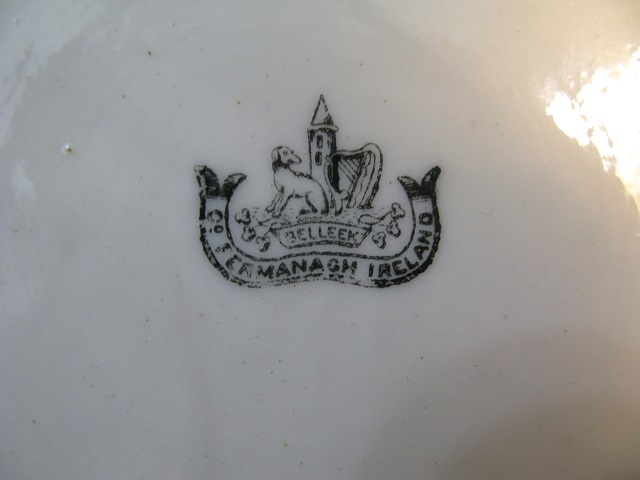 Our Tridacna Tea Trivet was Produced and Decorated
during Belleek's 2nd Period !!

From a SPLENDID FaceBook Article, contributed by
our illustrious Pottery author publishing under the
pseudonym 'Robert Armstrong', we visualize a
beautiful example of our Belleek Pottery, hand
decorated on a Hexagon Cup and Saucer, attributed
to Belleek Artist Ms Gertrude Johnston !! You may
examine this article in its entirety at the following
Link :

Hexagon Cup and Saucer !!

As seen from the above, this decoration was
completely hand painted without the use of any
transfer 'guide' !! It remains an exquisite example
of perseverance, skill and talent exhibited by some
of the Pottery's original decorators !! Personally, I
can't paint by numbers, so attempting to decorate a
curved surface, in addition to the fluted lips of
something like a Hexagon Pattern Cup would be
tremendously frustrating to my psyche !!

Briefly exiting our discussion regarding the
appearance of this transfer on actual Pottery
items let's shed some light on other displays on
which Belleek exhibits their proud Pottery image !!
The most obvious, would be the little advertisement
folder Belleek inserts in each of their product boxes,
briefly outlining the Pottery's History and on
occasion, also including a tad bit of history of
the particular item, especially in the case of
Limited Editions !!

Other forms of announcements have be published
throughout the Years, mostly in the format of
event notices or invitations to special meetings !!
What you envision following, is a tempting poster,
hopefully enticing the public to tour the Belleek
Pottery Premises !! Unfortunately, I have no idea
as to the exact age of this placard nor my
involvement in its acquisition ?? I do acknowledge
that it forms part of my collection of three rather
sizable cartons of Belleek literature, including
everything from pages extracted from magazines
to brochures obtained from museums around
Ireland !! To present an awe of antiquity, it is
printed on a firm yellowish/brown paper in a
brownish lettering tone !!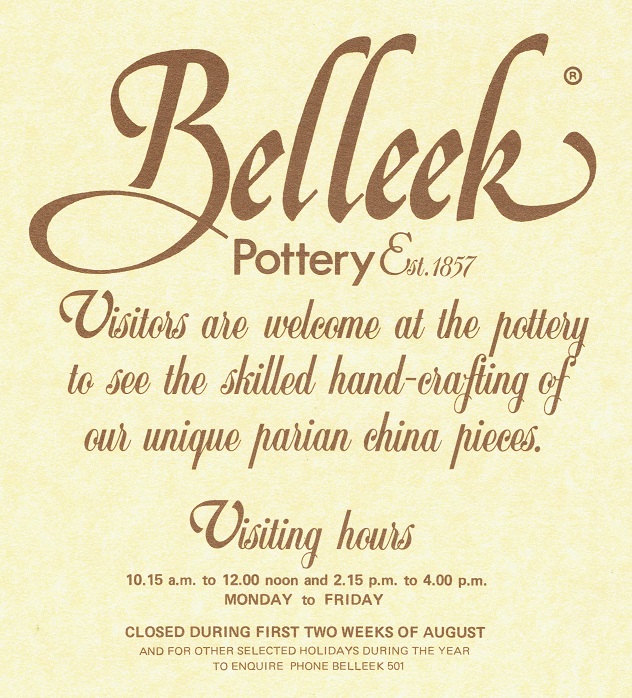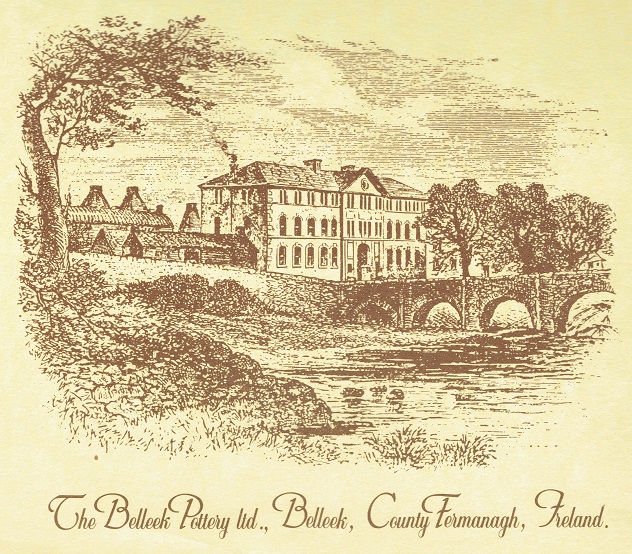 As I mentioned earlier, the public was also quite
enthusiastic and enamoured over this powerful
structure !! They should have been, since the
Pottery was probably responsible for at least half
the employment of the area and possibly upwards of
one hundred percent accountable, indirectly for the
remaining jobs in and around the town of Belleek !!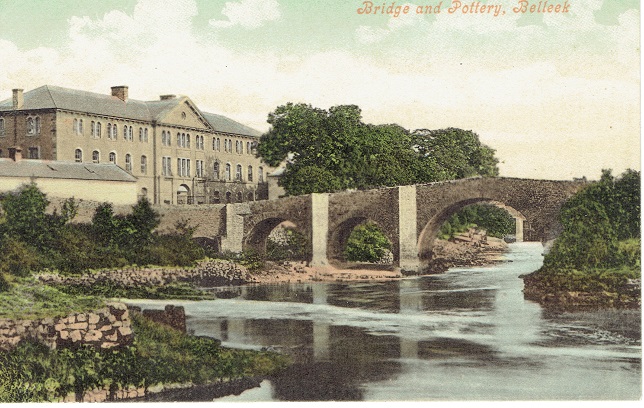 Above, we see an early postcard of our Belleek Pottery !!

As the process of colour photography was in its
infancy, even around the turn of the 20th Century,
this postcard was inevitably the product of a coloured
photograph !! As opposed to 'true' colour photography,
a coloured photograph is simply a black and white
picture augmented, primarily with pastel shades, to
provide the illusion of actual life !! This process of
tinting would have been very similar to that of
painting the brilliant transfers the Pottery utilized
on some of their wares especially the armorial
pieces !!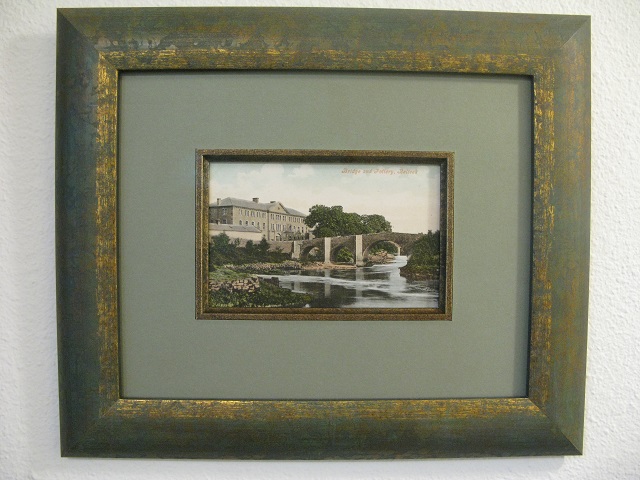 My beautiful Postcard hanging in my entryway !!

Just prior to editorial release, I decided to include
the above picture as I was extremely delighted and
satisfied with the results of the framing job which,
I feel complement my Pottery postcard and adds an
aesthetic and creative conversational object on my
entry way wall !!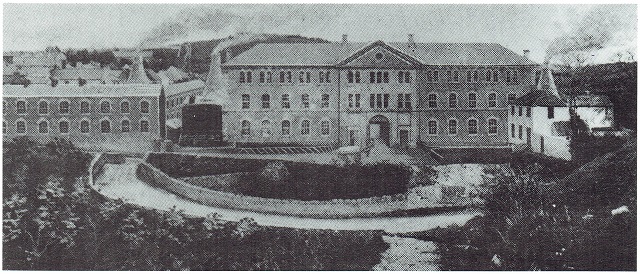 Compliments of Richard K. Degenhardt's Belleek
The Complete Collector's Guide and Illustrated Reference
Second Edition, page 7 (© 1993)

There was a 'force' which, was disturbing me as I
published this night after night ?? At first I felt it
was simply, what is referred to as, the freedom of
artistic and poetic license !! Then it ultimately
impacted me with mind splitting energy !! If we
closely examine each of the separate transfer
examples, you will notice to the left of the main
Pottery building, as you view each item, there are
three additional extended single story buildings !!
Even on the hand painted Hexagon Cup and Saucer,
she painted one extra structure !! Of interest to
these out buildings is first, they are all constructed
as single floor industrial expanses but more
important, is they LACK any windows !!

Now, please return to my postcard photograph as
well as Dick's published early Pottery picture !! My
postcard clearly displays again, a single, windowless
structure !! Due to the actual perspective, additional
structures surely can, and probably do, exist behind
the one we can discern !! The essential clue here
though is windowless !! Now, take another glance at
Dick's reference and you will clearly identify a TWO
level structure WITH windows !!

Thus, I now hypothesis our Pottery scenic transfer
was etched on its copper plates extremely early in
the Pottery's distinguished history, as it displays,
what I suspect are simply temporary buildings !!
The 'later' photograph, from Dick's work, would
then exhibit a completed project, or one very near
realization !!

I believe this verifies the fact that our Pottery was
constructed carefully over a period of Years and
during several of these periods, buildings were razed
and improvements included ??!! It's abundantly
possible that these side work places were utilized
for pottery production while the final bricks were
being laid for the main building !! These 'temporary'
structures were then demolished in favour of their
permanent counterparts !! Unfortunately, we'll
probably never realize the ultimate veracity unless
we're fortunate enough to unearth antiquated
documents from some obscure local attic repository
which, if fortune radiates her brilliance upon us,
we will again unravel another Belleek mystery !!

I attempt to honour my habit of not 'advertising' in
any of my Newslettres, but, with this topic, I'm
electing to make a slight exception !! During the
Pottery's 5th Period, a Celtic Commemorative Plate
was produced which, included our Pottery Scenic
Transfer in its center !! I display it below !!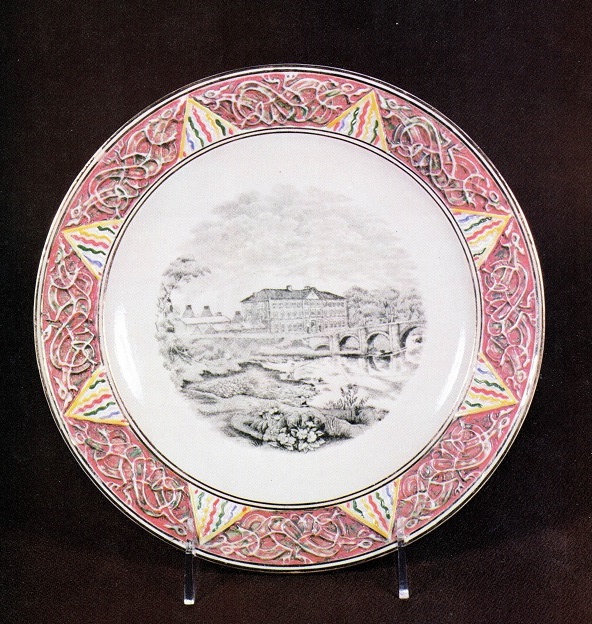 5th Period Celtic Scenic Commemorative Plate !!

Unfortunately, since this is a 'Scan' of a picture, its
quality is quite reduced and thus, the resulting object
appears rather inferior !! None the less, it's another
beautiful example of the Pottery's production skills
and if any of you Belleekers out there know of one
for sale, I'd be more than interested !! THANKS !!

Now, furnished with this swathe of knowledge, are
you all prepared to join us on an excursion to the
Belleek Pottery's 160th Anniversary ??
** SUBSCRIPTION INFORMATION !!

For those of you I've 'lost contact' with, if you
WERE receiving my Newslettre and have NOT
received one in a bit, it's MOST probably due to a
Change in YOUR E-mail ID !! Post me, i.e., E-mail,
your current ID and I'll get you back on my list !!

If you read my Newslettres regularly and DID NOT
receive an E-mail notification of this Newslettre,
PLEASE just drop me an E-mail and I'll be sure to
get you BACK onto my Circulation list !! THANKS !!

Of course, if you're NOT currently on my List and
would LIKE to be in on my Mailing List, ALL you need
do is to drop me a SHORT note indicating 'that you
would like automatic notification of new Newslettres' !!
And, BINGO, I'll ADD you to my list and you'll begin
receiving upcoming Newslettre notifications !!

Belleekingly,

Del E. Domke, Belleek Consultant
16142 N.E. 15th. Street
Bellevue, WA 98008-2711
U.S.A.

Telephone : 1 (425) 746-6363
Message : 1 (425) 746-6363
FAX : 1 (425) 746-6363 (Télè first !!)
E-mail : delyicious@comcast.net
Web-site : The Beauty and Romance of Irish Belleek (or) :
http://delyicious.magix.net/public/index.html