PREVIOUS NEWS
Thursday, December 24, 2009



Belleek Newslettre (# 13.3)



** POTTERY UPDATES !!



REMEMBER, 2010 brings to our Society a 'rejuvenation'
concept, where, as of January 1, 2010, NO MEMBERSHIP
DUES will be accessed in the future !! This is a
positive attempt to attract new members, whom are
visiting our BCIS Site but not joining our fine
Society !!

Although, there will no longer be 'a yearly
membership renewal item', there will STILL be
Limited Edition items, available ONLY to Society
members !! This will be in addition to special
offers to members ONLY !!

** UPCOMING CONVENTION NEWS !!

SAVE THE DATE FOR BCIS 2011
CONVENTION - CHICAGO,
SEPTEMBER 15-18, 2011 !!

Chicago lost the Olympic bid but we gained the next
BCIS convention! Please join us for a fun filled
convention where we talk about, shop for, auction off ,
and share information regarding our favorite obsession,
BELLEEK!

The Windy City Chapter is very excited to host the
next convention and is very busy with the plans.
Look for more information next year regarding the
convention registration and hotel information, in
the spring issue.

** I LOVE TO FLY ??

A man couldn't find his luggage at the airport
baggage area. So he went to the lost luggage
office and told the woman there that his bags
never showed up.

She smiled and told him not to worry because she was
a trained professional and he was in good hands.

"Now," she asked him, "Has your plane arrived yet?"...

** ATLANTIQUE CITY LIVES !!

JMK Shows to launch new Atlantic City Antiques and
Collectors Show !!



MAJOR NEWS UPDATE !!



ATLANTIC CITY, N.J. – JMK Shows will produce a new
"antiques and collectors" event in the Atlantic City
Convention Center March 27-28, 2010. The show fills
the void created by F+W Media's September announcement
it was canceling the long running Atlantique City
Antiques & Collectibles Show. (Antique Trader is
published by F+W Media).

The new event will be called the Atlantic City
Antiques and Collectors Show. The two-day event
will combine all the genres of antiques and
collectibles in one location yet they will be
separated within the venue. Antique furniture and
furnishings in one area, toys and ephemera in another,
vintage clothing will have its own designated section,
as will fine art and dolls, etc.

"I am honored and welcome the opportunity to create,
re-invent and re-brand an event of this caliber in
Atlantic City," JMK Shows manager Allison Kohler said
in a news release.

JMK Shows runs a variety of antiques and home décor
shows. Their antiques shows include the Morristown
Armory Antique Show and the Birchwood Manor Antiques
Show. The firm also manages a variety of doll and
collectibles shows such as The Doll Show at Faileigh
Dickinson University in Hackensack, N.J. and the
Sarasota (Fla.) Holiday Antiques Show & Sale.

More information about the event is available at the
JMK Web Site at http://www.JMKShows.com or by calling
(973) 927-2794.

** PONDER ??

"What's another word for Thesaurus?"


- Steven Wright



** ZIPPY PINS !!



On the lookout for some VERY special 'pins' for your
collectors group ?? Try Zippy Pins located on the
Internet at : http://www.zippypins.com !!

Zippy Pins currently has TWELVE (12) different styles
of Belleek pins in, what I believe, four (4) different
sizes !! They also produce the same in magnets and
key chains !! Additionally, they produce 2 sizes of
zipper pulls and have JUST introduced a 2¼" little
mirror !!

Other than Belleek items, they have hundreds of other
collectibles represented as well as scads of
miscellaneous designs !! In fact, you may even create
your OWN design !!

Following receipt of my order, I received the
following from Zippy Pin's Creator : "My sincere
thanks for your order and VERY KIND words about my
new Web Site and my pins. Creating our Web Site :
http://www.zippypins.com has been a labor of love for
my daughter and me. Our goal for the site was to give
niche collectors/hobbyists a way to share and
celebrate their interests. It's wonderful to see how
much JOY they've already brought to you.

"Through a small presence on eBay we've been able to
connect with a number of individual Belleek enthusiasts
as well as Chapters. In fact, an assortment of 250 pins
were distributed at the 2009 Belleek Collectors Society
Convention held in New Jersey this past April. Now with
our new website and expanded size and product offerings,
we're now even better able to serve the needs of all
collectors.

"Should you ever need a large quantity (50+) of any of
my Belleek designs or even your own CUSTOM DESIGN
(logo, picture, text, etc.), please visit this link
http://zippypins.com/buy-in-bulk to view our
bulk/wholesale discount pricing."

I offered her exposure in my upcoming Newslettre and
she responded with : "We're so excited to finally have
our Site launched and would be delighted to be
mentioned in your upcoming newslettre. In your post, be
sure to include the following coupon code: ZP10101
so that your readers can enjoy a 10% discount on
their http://www.zippypins.com retail purchases
(they'll need to enter the code during checkout)."

** OUR KING !!

"Knavery seems to be so much the striking feature of
its inhabitants that it may not in the end be an evil
that they will become aliens to this country."


- George III (1738 - 1820), on America



** SEASONAL EXCITEMENT !!

But maybe a wee bit early ?? As this was going to be
Lincoln's first 'treating' Halloween, my lovely
Daughter, Eryn, begin asking him what he wanted to be
as he enjoyed his primary experience of this pagan
celebration !! So, like 30 out of 32 times he
exuberantly responded 'Santa Clause' ?? Undaunted,
mommie went out shopping for a small bolt of red
flannel and some fuzzy white trim !! She then sat
down with her sewing machine and crafted up this
amazingly splendid little Santa suit !! So, here we
see Santa Lincoln !!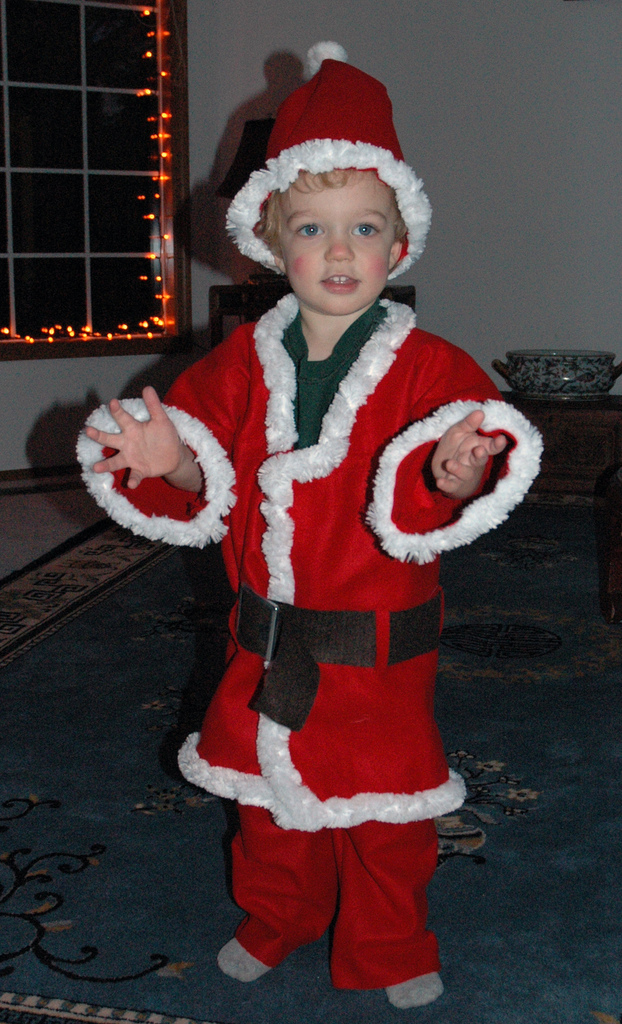 Santa is perplexed as
he can't seem to locate his boots ??

IF you're wondering what he selected the 'other two'
times, he thought it would be neat to be Darth Vader
of Star Wars Fame !! Eryn anticipated this and was
ready for a late visit to Target (department store)
and pick up a Darth Vader Helmet and create 'Darth
Santa' !!

In any case, Santa remained his favourite and he
thoroughly enjoyed his time spent out treating his
neighborhood !! His ULTIMATE 'score' was a carton of
chocolate milk !!

Additional seasonal reading you may be interested in
is the festival of Samhain, celebrated by the Celts of
modern-day Ireland and the UK !! Originating two and a
half millennia ago, the isle natives braced themselves
for winter with this festival, which is pronounced
"sowen," literally meaning "summer's end" and falling
on November 1 !! It heralds the beginning of the dark,
cold half of the year !!

And of course, there's the history of the Jack-o'-
lantern !! Originally a turnip, this carved vegetable
with a candle inside was used by a poor Irish soul
named Jack to light his way as he wandered for
eternity, denied entrance to both Heaven and Hell —
Heaven because of his habitual stinginess and Hell
because he had, while still alive, forced the devil
into a pact that would spare Jack from ever going to
Hell !! Boy, did he live (or rather die) to regret
it !! The Irish brought this custom to the US in the
1840's but found it more convenient to use pumpkins
than their traditional turnip, rutabaga or gourd !!

** PIZZA !!

"Employees at a pizzeria in Ireland were fired for
watching porn on the job. Isn't that disgusting?
Irish people trying to make pizza?"


- Conan O'Brien





** UKRAINIAN CHRISTMAS




SPIDERWEB LEGEND !!



Since this is our Holiday Season, I felt it
appropriate to to expound on a beautiful Ukrainian
Christmas legend !! Their wonderful story has been
recorded as :

"One family in the village was too poor to have a
decorated Christmas tree in their house. Thee mother
had hung a few meager nuts and fruits on a small tree
outside their door in hopes of bringing a little more
cheer to her children's Christmas Day.

"On Christmas Eve the spiders heard her prayers and
hung their webs over the tree. As the sun came up, its
rays glittered and sparkled on the dew on the webs and
turned them to silver and gold."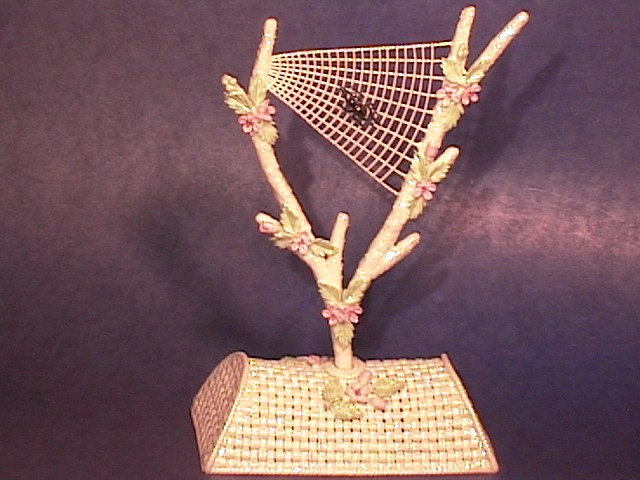 Here we have a precious view of their branch
with the web spun by the spiders (in porcelain) !!

This absolutely marvelous structured facsimile is
not, as you might speculate, produced by the Belleek
Pottery, BUT is in fact sculptured by some of their
skilled craft persons, whom upon their departure from
Belleek, formed the Melvin Craft Pottery !!

The remaining information gathered for my article is
graciously provided by a retired Pottery worker whom
is also an old friend of mine, one you may also be
acquainted with, Sean O'Loughlin !!

Editors Note : Sean O'Loughlin succeeded Tommy
Campbell, upon his retirement in 1978, as Belleek
Pottery Manager. Sean came to the position equipped
with an in-depth knowledge of all phases of pottery
operation, and with a particular talent for teaching
apprentices, as well as an inordinate skill in
correcting problems inherent in Parian slip. (from
Richard K. Degenhardt, Belleek, The Complete
Collector's Guide and Illustrated Reference, Second
Edition)

At the time Melvin Craft was formulating, Sean's
position at the Belleek Pottery was that of Technical
Manager and previous to that he was their Production
Manager. In both of these roles he played a major
part in new designs and in the re-introduction of
old designs, i.e., designs that had not been in
production for over 50 years.

In accumulating this fascinating story, Sean was at
times vary harried, in that the principles, of Melvin
Craft, and himself were at opposite ends of the
United Kingdom, although the Melvin Craft Pottery is
ONLY about five (5) miles from his residence !!

They finally met and Sean got to talking with Tony
Keown, owner of Melvin Craft Pottery. Tony told him
that Melvin Craft Pottery was founded in 1984 by Tony
and his wife, Margaret. They specialize in Ceramic
Jewelry such as ear rings, stick pins, Brooches and
small baskets. Their quality is of a very high
standard at a competitive price.

Tony Keown had a very long and respected tenure at
the Belleek Pottery !! He worked for over 25 years
in the basket making and flowering department and was
one of the most skilled craft persons in the Belleek
Pottery. Unfortunately, he was one of many skilled
employees who left or was allowed to leave much to
the detriment of The Belleek Pottery.

Upon departing Belleek, Tony & his wife Margaret and
later on ,his Son Martin formed Melvin Craft. They
also trained an apprentice, Declan Ferguson who
eventually left to go on to other employment, after
a few years.

Originally, Melvin Craft was located just (South)
across the bridge at Belleek in the Republic of
Ireland. In fact, if one ventured up to the third
floor of the Belleek Pottery, you could see the
Melvin Craft flag flying over their shop !! They
then moved to Garrison, County Fermanagh, N. Ireland,
about 5 miles from Belleek, about 1988 to a purpose
built Pottery, where they remain to this day.

Currently, Tony Keown lives near Lough Melvin, hence
the name Melvin Craft. Lough Melvin is one of the most
beautiful lakes in Ireland and Tony often takes his
dog for a walk on the shores of the lake.

One day, while out walking, Tony noticed a spider and
its web on the branch of a hawthorn tree and this
inspired him to make a spider's web based on what he
had seen.

He carried out some intricate research on spiders and
came up with a design for a spider. In many experts
opinion the Melvin Craft spider's web is of a very
authentic design !!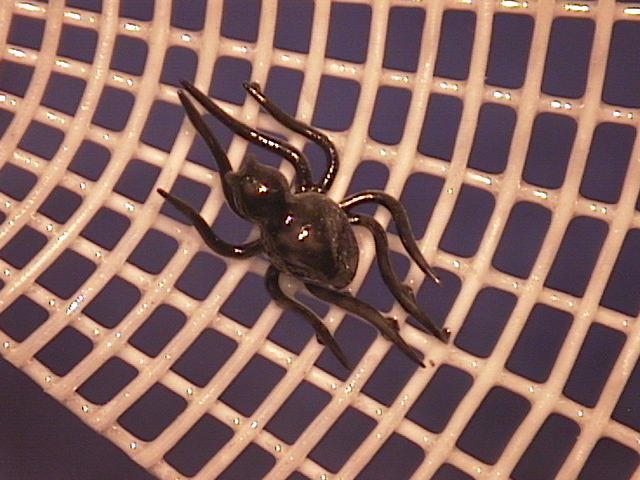 Here we have a view of Tony's MARVELOUS Spider !!



If you're interested, here's a Link to Melvin Craft's
Web Site :

http://www.fermanaghcraft.com/melvincraft/Home.htm

I wish ALL Belleekers the utmost joy and peace during
this Holiday Season and my sincerest wishes for a
prosperous New Year !!


** SUBSCRIPTION INFORMATION !!

For those of you I've 'lost contact' with, if you
WERE receiving my Newslettre and have NOT
received one in a bit, it's MOST probably due to a
Change in YOUR E-mail ID !! Post me, i.e., E-mail,
your current ID and I'll get you back on my list !!

If you read my Newslettres regularly and DID NOT
receive an E-mail notification of this Newslettre,
PLEASE just drop me an E-mail and I'll be sure to
get you BACK onto my Circulation list !! THANKS !!

Of course, if you're NOT currently on my List and
would LIKE to be in on my Mailing List, ALL you need
do is to drop me a SHORT note indicating 'that you
would like automatic notification of new Newslettres' !!
And, BINGO, I'll ADD you to my list and you'll begin
receiving upcoming Newslettre notifications !!

Belleekingly,

Del E. Domke, Belleek Consultant
16142 N.E. 15th. Street
Bellevue, WA 98008-2711
U.S.A.

Telephone : 1 (425) 746-6363
Message : 1 (425) 746-6363
FAX : 1 (425) 746-6363
E-mail : delyicious@comcast.net
Web-site : The Beauty and Romance of Irish Belleek (or) :
http://delyicious.magix.net/public/index.html